Announcement: DumaOS Development Milestone 1.3
About two years ago we made the biggest decision in our company's history. We knew we had the best router software on the market, but we were not developing at the speed we wanted to. Every time we made a change, we were forced to repeat the same steps each time. Not to mention, a single change risked breaking other features.

Netduma Dev Team c. 2016
We pulled the trigger. We decided to start-over again, taking all the lessons from our launch to design an entirely new firmware. We made
DumaOS
, the router operating system for your home. DumaOS gives us the foundations to develop new features, which we call 'R-Apps' ('Router Apps'), at incredible speed. And we will be doing this from now on in a series of
Development Milestones
. Each Milestone will bring more functionality to your DumaOS-powered router, solving the real problems you face online.

Netduma Dev Team – Present Day
Before we go any further, some important rules:
Predicting software development is tricky, sometimes things go much faster than you expect, sometimes they go slower. So until we are certain, the ETA of a milestone will always be 'Whenever it's ready'.
The contents of a Milestone could change. We might need to defer some of it to a future Milestone, or we might be able to squeeze in some extras.
Milestones may not always roll out to every DumaOS powered router at the same time or with the same contents.
With the housekeeping out of the way, let's get onto the fun bit:
Milestone 1.3
Milestone 1.3 is the first publicly announced Milestone for DumaOS. It brings cutting-edge new technology, as well as old favourites, to your DumaOS powered router, enabling you to take even more control over your network.
Ping Assist v2
Ping Assist is back, and it's better than ever. Ping Assist lets low ping hosts to connect to you even if they are outside your Geo-Filter limit, helping you to quickly find high quality, low ping games. DumaOS Ping Assist is a big step up on the original Netduma R1 Ping Assist – we have rewritten the whole feature to be far more effective at quickly detecting pings – meaning you can find the best hosts on the planet much faster than before. The results are truly incredible, especially in games like Black Ops 4, Fornite, PUBG, Overwatch, FIFA 19 and many others.
Hybrid VPN
Another return of an old favourite. Hybrid VPN lets you apply your VPN to your entire network
and
also
lets you choose the devices and applications you want to put through your VPN using DumaOS Deep Packet Inspection. This gives you so much more flexibility than a standard VPN, allowing you to keep the vulnerable areas of your network private and secure without affecting the devices that don't need a VPN. Hybrid VPN works with any VPN provider that uses OpenVPN (almost all do).
Advanced Ping Stats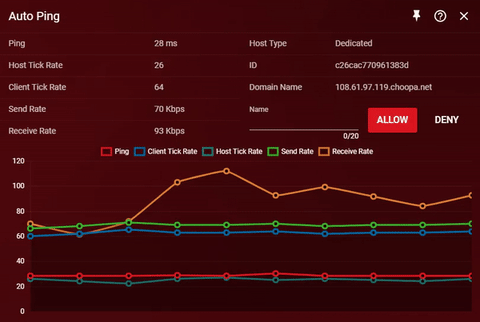 There's a new buzzword in town: Server Tickrate. This is the number of updates a game server makes per second. If your game runs at 60 frames per second, you ideally want a Tickrate at 60Hz (60 updates per second). Knowing the importance of this metric to our users, we have created Advanced Ping Stats. You can now see the Server (Host) Tickrate and Receive Rate, as well as your own Client Tickrate and Send Rate. This allows you to see the quality of your game's connection in far more detail than ever before. You can also pin to your DumaOS Dashboard for quick reference in-game. This is just the beginning for this feature. Now we are capturing server metrics we can do some cool things to give you an edge. Look out for more in future Milestones.
Device Manager Enhancements
The DumaOS Device Manager shows every device on your Network and you can now view this as a sortable table, to give you easier administration.
We Need You!
Milestone 1.3 is has been driven by user feedback. So if you have any ideas or suggestions for suggestions, let us know on
the forum
.
Milestone: Current Status
Milestone 1.3 has now been fully released on the Netduma R1, the NETGEAR Nighthawk XR500, XR450 and XR700. Please sign up to the
DumaOS Mailing List
to be notified of future Milestone releases.